Monday, April 30th, 2012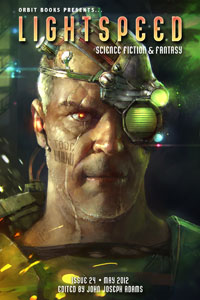 As I'm sure I've mentioned before, I stopped writing short fiction at the end of the last century, but last fall I took it up again. The second story I wrote, "Nightside on Callisto," has now become my first original short fiction to reach publication since my 2000 Nebula-award winner.
This feels like a very significant milestone for me.
Look for "Nightside on Callisto" in the May issue of Lightspeed magazine, now available here as an ebook. Lightspeed is an innovative short fiction market. Please support them by purchasing a copy of the magazine!