October 20th, 2012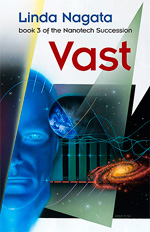 A sense kicked in. Something like vision. Not because it emulated sight, but because it revealed. Himself: Nikko Jiang-Tibayan. An electronic pattern scheduled to manifest at discrete intervals. Nikko Jiang-Tibayan. He'd been an organic entity once. Not now.
Point one: identify.
Personality suspended on a machine grid: He is the mind of the great ship, Null Boundary. His memories are many, not all accessible. He's locked much of his past away in proscribed data fields. He interrogates his remaining inventory, seeking an explanation. It comes in an amalgam of cloudy scents: the clinging stink of living flesh parasitized by aerobic bacteria. All defenses down. "Don't be sad, my love," she whispers. "Whatever the cost, you know we had to try."
He explores no farther.
Point two and counting: status check.
A scheduled mood shift floods his pattern with easy confidence. He confirms that Null Boundary has long ago reached maximum velocity, four-tenths lightspeed. The magnetic scoops have been deactivated; the solenoids folded to a point piercing the increasingly thick interstellar medium. Duration? Over two centuries ship's time have elapsed since Null Boundary left Deception Well.
Two more centuries.
His past has become unconscionably deep for a man who'd been condemned to die at the age of thirty standard years.
"VAST lives up to its name–big, important, yet written to a human scale so the perspectives of science emerge all the more strongly. Among hard sf writers, Linda Nagata is a pearl, able to render her complex landscapes in moving, quick-paced stories that linger in the mind."

–Gregory Benford

"…one of the most enjoyable SF books I've read in the last 12 years…I can safely say that it is one of the very novels that has literally haunted my dreams, in that the book exerted such a powerful hold on my waking imagination that come nighttime I found my sleeping brain racing ahead with the story. It's awesome!"

"…Nagata's vision broadens our sense of who we are and what we might one day become as few others have done before her. Recommended."

–Tom Easton, Analog

"VAST blends solid reasoning, lyrical prose, and an almost mythic suite of characters to form one of the most satisfying sf novels of the decade."

–Wil McCarthy
Posted on: Saturday, October 20th, 2012 at 9:27 pm
Categories: My Books, Snippets.
Tags: Snippets, The Nanotech Succession