June 13th, 2011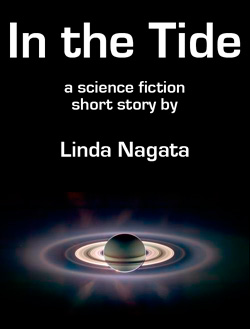 I'm a novelist by nature. I've only ever written a handful of short stories–and most of those are on the long end of a short story–plus a few novelettes and novellas.
Word count is the deciding factor on which category a piece of fiction falls into. According to the Science Fiction and Fantasy Writers of America:
Short story: under 7,500 words
Novelette: 7,500 to 17,500 words
Novella: 17,500 to 40,000 words
Novel: over 40,000 words
I've just published in ebook form a 7,000 word short. In the Tide was an Analog cover story back in the day, which was quite a coup for me at that stage of my career.
Here's a tip for new writers: In the Tide was actually a "study" in much the same way that a painter will do sketches before tackling the big oil painting. I used this story to develop a feeling for the nanotech-drenched story world that later led to The Nanotech Succession books. I also used it to develop the type of evolved-human character that ultimately led to Nikko in The Bohr Maker. It's a scheme I heartily recommend! Get paid developing the ideas for your novels. Where's the downside of that?
In the Tide is a 99¢ short story. Here are the links:
Amazon USA
Amazon UK (£0.69)
Barnes & Noble
UPDATE: "In The Tide" is now available for free on my website, MythicIsland.com. Look for the box labeled "FREE FICTION"
Posted on: Monday, June 13th, 2011 at 3:55 pm
Categories: My E-books, Short Stories (Ebooks), Writing.
Tags: Analog, science fiction, short story, writing tip