Saturday, September 29th, 2012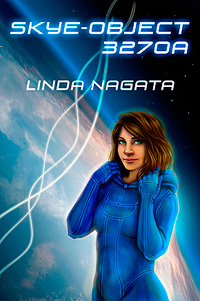 The pit was an ugly chunk of a room, weirdly lit by panels set between the three sets of elevator doors along its curving back wall. Faint shadows shifted and rippled across the floor, leading Skye to glance up, at the domed observation bubble, and the faces of nearly two hundred ados staring down at her. Buyu was there. He gave her a thumbs-up. Skye pretended not to see.
She straightened her shoulders, glancing nervously at Commandant Penwo's office, sheltered behind a transparent wall on one side of the jump pit. She could see him, dressed in street clothes and rocking in a high-back chair. He didn't look happy. He wanted to veto this jump, but Skye was fourteen now, and by Silk's city charter that meant she was free to do any activity approved for ados. It was a giddy freedom that she had been cherishing over the five days since her birthday.
Penwo caught her glance. He shook his head. "Somewhere between six and sixty people lose their good sense," he said. "We don't call this phase 'dumb ado' for nothing."
Skye's fingers twitched. "Can you remember that far back, Commandant?"
Penwo grinned. "Have fun, Skye Object. Hope you live."
"Forever."
Advanced middle-grade / young-adult science fiction, available in print and ebook versions. More Info.