Monday, July 4th, 2011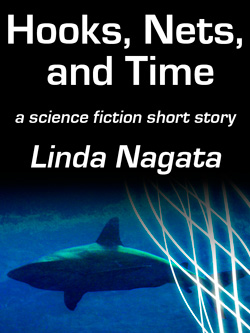 …and in a fortuitous coincidence, I've just republished my short story Hooks, Nets, and Time, a near-feature thriller involving sharks, both traditional and human, and the practice of shark finning.
Shark fins are the key ingredient in the luxury dish shark-fin soup. Fins are harvested by hooking or netting sharks, cutting off their fins, and tossing the carcasses back into the ocean. Why isn't the whole shark used? No idea. Here's the article in the Honolulu Staradvertiser.
In Hooks, Nets, and Time the shark fin harvest is self-sustaining, but the hazards are real. Here's the quick description:
Zayder works alone, tending the shark pen on an isolated ocean platform. A good job is hard to come by, so when his boss, Mr. Ryan, comes to visit he asks no questions, just drinks the cordial he's offered and turns in early. But when Mr. Ryan's plans go awry, it's much too late for Zayder to close his eyes.
Hooks, Nets, and Time was originally published in August 1997 in The Magazine of Fantasy & Science Fiction. It's now a 99¢ short story. Here are the links:
Amazon USA
Amazon UK (£0.71)
Barnes & Noble