November 14th, 2011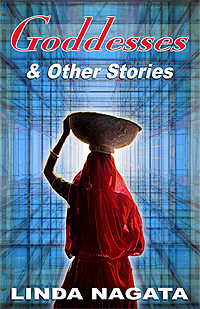 Thanks to some concentrated pressure encouragement from reader Phil Friel I have finally put together a collection of my short stories under the title Goddesses & Other Stories. In the collection you'll find all of my published short fiction–all ten stories–including the Nebula Award winning novella Goddesses.
Goddesses has been out for a while as a single, but I've now replaced that book with the collection, mostly so I could recycle the cover (must be practical).
The new volume contains just over 100,000 words of fiction, with individual pieces varying in length from 3,000 to 32,000 words, all originally published between 1987 and 2000.
So if you're interested in short fiction–or you just want to have a look at a writer's early efforts–please consider Goddesses & Other Stories. As of today, the ebook is available at all the Amazon stores and Barnes & Noble. It'll be available from Book View Café at the imminent launch of the new ebookstore.
Here are links:
Amazon USA
Amazon UK
Amazon DE
Amazon FR
Barnes & Noble
And here is a list of included stories:
Spectral Expectations (Analog 1987)
Career Decision (Analog 1988)
In the Tide (Analog 1989)
Small Victories (Analog 1993)
Liberator (The Magazine of Fantasy & Science Fiction 1993)
Old Mother (The Magazine of Fantasy & Science Fiction 1995)
The Bird Catcher's Children (The Magazine of Fantasy & Science Fiction 1997)
Hooks, Nets, and Time (The Magazine of Fantasy & Science Fiction 1997)
The Flood (More Amazing Stories 1998)
Goddesses (Sci-Fi.com 2000)
Posted on: Monday, November 14th, 2011 at 1:34 pm
Categories: My E-books, Short Stories (Ebooks).
Tags: Goddesses & Other Stories, science fiction short stories by women writers, Short Stories (Ebooks), short stories by Linda Nagata, short story collection