November 18th, 2012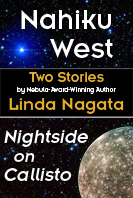 Back in early October, I published my 2012 Analog story "Nahiku West" as an ebook that also included an older story of mine. It was available only at Book View Café.
Now that another 2012 story, "Nightside On Callisto," has come off its exclusive period at Lightspeed Magazine, I've pulled the original ebook and created a new one that includes both of these two stories from 2012. This version is available at all of the usual vendors (links below).
If you purchased the original ebook of "Nahiku West" from Book View Café, you can replace it with the new one. Just click the "Download" link in your receipt to get the new version. Be aware that the file names are the same.
If by chance you're an active member of Science Fiction & Fantasy Writers of America (SFWA) and are reading for Nebula consideration, let me know and I'll be happy to send you a copy.
Here's where to find it:
Book View Café (worldwide)
Kobo Books (international)
Barnes & Noble
Amazon.com USA
Amazon UK
Amazon Japan
Amazon Germany
Amazon France
Amazon Spain
Amazon Italy
Posted on: Sunday, November 18th, 2012 at 2:56 pm
Categories: My E-books, Short Stories (Ebooks).
Tags: Nahiku West, Nightside On Callisto