February 1st, 2013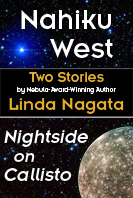 The Locus Recommended Reading List is out, and I'm very pleased to say that both of my science fiction stories from 2012 are on it.
"Nahiku West" — Analog, October 2012 — is in the novelette category, and "Nightside On Callisto" — Lightspeed Magazine, May 2012, is in the short story category.
Both stories are available in an ebook edition that can be purchased through my own ebook store, as well as through the usual vendors on the web.
Posted on: Friday, February 1st, 2013 at 11:20 am
Categories: Promotion, Short Stories (Ebooks).
Tags: Locus, Locus Recommended Reading, Nahiku West, Nightside On Callisto